We're seeing red at the Sandestin Gumbo Festival this February. From the best Bloody Marys to award-winning gumbo recipes, the annual festival offers delicious, local seafood paired with live music, entertainment, and, everyone's favorite, bacon-filled bloodies. Save your spot on the beach for one of Sandestin's most celebrated events of the year. 
Planning to visit for the Sandestin Gumbo Festival, but want to see more? Access our exclusive YFAB's Vacation Guide for hand-picked selections on where to dine and what to do while you're in town. Get your complimentary copy of our on-the-go guide today!
Discover the Sandestin Gumbo Festival This February
Come out to Sandestin's biggest seafood boil at the Sandestin Gumbo Festival this February. You can expect a little bit of spice mixed with a whole lot of celebrating. Enjoy the sounds of trumpets of New Orleans style jazz sounds while you make your way through the tasting booths. This festival is one event Florida foodies do not want to miss!
Seafood Boil Kick-Off Party
The official festival kick-off happens on February 14th from 5 p.m. to 7 p.m. Show up dockside at Hammerhead's Bar and Grille for a neighborly seafood boil, drinks, and live entertainment. Enjoy a lively setting on Choctawhatchee Bay and look forward to carefully crafted Bloody Marys in the morning. 
Bring your eating pants to the 31st Annual Sandestin Gumbo Festival. The main event features participants such as Slick Lips, Sunset Bay Cafe, Boathouse Oyster Bar, Crab Island Cantina, and so many more! Whether you prefer sausage or seafood, light or dark, spicy or mild, this one-of-a-kind food fest will make you fall in love with gumbo all over again. 
And don't forget the bloodies. (Not that you could) The Best Bloody Mary on the Beach competition is back and in full force this year. The event is sponsored by Bombora Vodka and features the best tomato creations from bars such as Harry T's and Hurricane Oyster Bar. Taste them all, and you be the judge!
Tickets for the 31st Annual Sandestin Gumbo Festival are on sale now. Don't miss out on the best cook-off in the Gulf! Guests can purchase tickets here or through The Village of Baytowne Wharf. Get yours today!
Unwind in Luxury With Your Friend at the Beach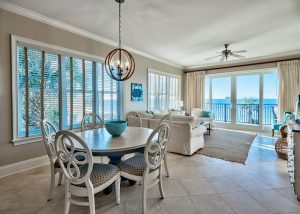 After you've filled your plate and your palate, come back to your stunning condo with Your Friend at the Beach. Bring the gang and book your stay at Adagio B201. The four-bedroom, three-bath condo comfortably sleeps ten people and features pool and ocean views and a private beach walkover!
Between the Sandestin Gumbo Festival and time on the sand, who has time to grocery shop? Let us make it easy with our concierge grocery service. Send us your list, and your pantry will be ready and stocked when you arrive. You'll be ready to hit the sand in no time. We can't wait to welcome you to the Emerald Coast!