Join the excitement of the 30A Wine Festival in Alys Beach this February. The annual festival celebrates all things culinary and vintage in true Southern-style. From oysters and champagne to Boston Butts and brews, there is a little something for everyone at the festival. Get your tickets today for a weekend of pampering your palate. 
Plan the rest of your trip with our exclusive YFAB's Vacation Guide! Our complimentary guide offers hand-picked recommendations on everything you need to see and do during your stay. Best of all? It's free!
Everything You Need to Know About the 30A Wine Festival
The 30A Wine Festival began nine years ago as a benefit for the Children's Volunteer Health Network. Annual events include Garden & Gun's Oysters and Champagne on Thursday, Bourbon, Beer, and Butts on Friday night, a Grand Tasting on Saturday, and Sunday brunch followed by Rosé and Croquet. Come out to taste and smell the sights of the festival on February 20-23.
Garden & Gun's

Oysters and Champagne | Thursday, February 20th
Don't miss the wine festival's annual kick-off event, Oysters and Champagne. The renowned publication Garden & Gun shows you the best of the Panhandle as they shuck and pour. The night includes live music, culinary guests, and, of course, lots of bubbly. Get your tickets today!
Bourbon, Beer, and Butts | Friday, February 21st
We know it says "wine" festival, but what would a weekend be without some of the best craft beers and bourbon? Indulge in some of the best barbeque in the state while sipping on ales from our local breweries. The afternoon includes a live band and lessons from some of the greatest pitmasters in the country. 
The Grand Tasting | Saturday, February 22nd
Spend the day sipping, swirling, and studying some of the best wines in the world at the festival's Grand Tasting. Step into Caliza Restaurant for an afternoon of seminars from the country's leading vintners. Enjoy hors d'oeuvres and tastings as the winemakers tell their stories between the vines and wines. 
Mosy down to South Charles Street for the main event where you can sample over 80 different wines from around the world. Enjoy a day like no other as you stroll along to live music, tasting expert culinary creations, and sipping on the best wines. 
Local Tip: Snag a Weekend Pass and gain access to all of the events throughout the festival! 
Rosé and Croquet | Sunday, February 23rd
Send the weekend of wine and dine out in style at Sunday's Rosé and Croquet event. Celebrate in true Southern fashion as you brunch, booze, and compete in a friendly round of one of the South's oldest pastimes, croquet. Find your team of four and sign up for an afternoon of laidback fun.               
Unwine
With Your Friend at the Beach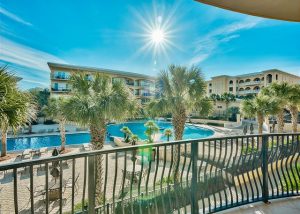 After a day of sipping and snacking at the 30A Wine Festival, you'll be ready to relax at your luxury condo with Your Friend at the Beach. Book your stay in Adagio G201 and enjoy three bedrooms and three baths complete with poolside access, plush king beds, and stainless steel appliances. Uncork the magic at Blue Mountain Beach this February!
Sweeten the deal with our February "Sweet" Special. Use promo code "sweet" and enjoy three nights for the price of two! What are you waiting for? Start planning your getaway today!