About Us
---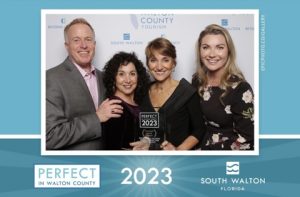 Your Friend At The Beach began after Nancy Fox started renting her own condos in 2005 and a guest asked her, "After staying with you, does everybody feel like you are their friend at the beach?" Nancy Fox and Larry Snyder manage boutique gulf front condos with a focus on making each guest feel like they are their friend at the beach. Because of this customer-first way of life, Your Friend at the Beach has been nominated for Best Rental Management Company in South Walton.
From your first phone call or email, we hope to give you the quickest response on the best condo for the vacation of your dreams. We are personally involved in each rental and though we can't do it all – we do oversee the cleaning, decorating and maintenance of each vacation destination. And if you need us, you have our cell phone, home phone and you will probably see us, after all, we are Your Friend At The Beach!
As part of the maintenance performed on our beachfront condos, we personally inspect each property weekly to ensure it is cleaned and that all appliances are in working order. Like a good friend, we keep backups on coffee makers, TV's – even refrigerators!
Tori joined YFAB almost from the beginning – she watched Nancy grow the business, helping clean condos, babysit for our guests and then when she finished college with a degree in Event Planning and Marketing, became our Concierge at the Beach. Tori not only works along with Nancy to find your perfect beach condo, she provides concierge service like crib rentals, grocery service and is our Social Media expert. As our event planner, Tori posts the local event news.
Adam Stapleton has over 12 years of experience in HVAC, plumbing, electrical and like Larry, works to maintain each condo to the five-star YFAB standard.
But to Your Friend At The Beach… it's not about us – it's all about you! As one "friend" wrote in the guest book, "Somehow we just connected via the telephone and I am thankful that I followed-up on the recommendation to contact you directly."
If you are planning a vacation trip to Destin or the Beaches of Thirty-A, you may want to follow the local event news that we post. We would love for you to Become Our Friend on Facebook. You're also welcome to download our YFAB app for iPhone or our YFAB app for Android for restaurant recommendations, activities and local events.
Your Friend At The Beach,
Nancy Fox and Larry Snyder