The scenic Florida panhandle is known and loved by travelers far and wide for its stunning beaches and coastal options for fun that await. No matter what time of year you arrive, you're in for a treat when sun, sand, and surf top your list of priorities. That said, there are always choices to be made when it comes to customizing your destination to fit your particular travel style. This is especially true for those who are trying to decide whether they'll spend time in Destin or 30A the next time they're headed to Florida. The following are a few factors to consider when trying to decide between the two and putting the finishing touches on your travel plans.
There is so much to do around Destin and 30A! Access our complimentary 30A, Florida Vacation Guide for our favorite restaurants, shopping, attractions, and more in our little slice of heaven.
The Exciting Destin Details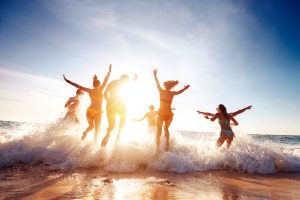 Destin, Florida is a city that's undergone a fascinating transformation over the past few decades, moving from a sleepy fishing village to a modern beach town marvel! Travelers who head this way come for the vibrant beaches and vast array of dining options ranging from southern fare to fantastic seafood alike. Destin is also home to upscale shopping stops for those who prefer to include a bit of retail therapy into their beach town getaways. Looking for mini golf and go-kart stops to enjoy with the family while you're in town? Destin has those as well. While time enjoying nature is well within reach in Destin, it's also a central hub for on-the-water excursions, tours, and parasailing when sky-high adventures are on your must-have list. Accommodations here lean towards smaller beach resort stays with great views included. Home to museums and amusement-style parks as well as gorgeous stretches of shoreline, Destin has a way of balancing in-town fun with a beach getaway vibe that's endlessly appealing to many adventurers.
Consider the Charm of 30A
As opposed to the comprehensive feel of Destin, 30A is a collection of charming coastal communities where guests can slow things down, and simply savor the getaway at their own pace. In total, 30A spans 24 miles of scenic terrain between Destin and Panama City Beach. This means there are options to explore and discover small communities throughout that each has its own personality and aesthetic to uncover. Places like Seaside infuse New Urbanism architecture into coastal scenery resulting in a place that feels like it's right out of a fairytale. Getting around 30A is often an exercise in biking or walking quiet paths that connect these communities and offer up sweeping water and sand views along the way. 30A hosts rare coastal dune lakes which are great for paddleboarding and provide an opportunity to get close to a landform that's only found in a handful of other destinations across the globe! The local dining options are inviting, and you'll likely find more locally owned stops rather than larger franchises that settle in Destin. 30A is a great place to relax, unwind, and savor the panhandle at a slower yet, equally scenic pace.
Book Your Stay Today
Whether you're looking to enjoy the energy of Destin or the laid-back appeal of 30A, your trip to Florida is enhanced when you book a stay through Your Friend at the Beach. Reach out today to learn more about our luxurious vacation rentals to choose from and to start planning your next trip.