There is always something happening on the Emerald Coast of Florida! It doesn't matter when you visit; with the mild weather year-round, there's likely to be some kind of event going on at the same time. From delicious food and wines to arts celebrations, festivals in 30A never disappoint.
Many of the below festivals will easily fill up an entire day or even weekend. However, the Emerald Coast offers countless attractions to fill the rest of your getaway! Access our complimentary 30A, Florida Vacation Guide for our favorite restaurants to eat at, businesses to shop at, places to see, and things to do near Destin and 30A.
Top 15 Festivals in 30A to Plan Your Vacation Around
1. 30A Wine Festival
We're starting this list with one of our favorite festivals in 30A: the 30A Wine Festival! This four-day beverage and food festival in February features four distinct events each day. Garden & Gun's Oysters and Champagne kicks everything off on Thursday with live music, culinary guests, and, of course, lots of oysters and bubbly. The next day, you'll feel more like you're in the Carolinas with Bourbon, Beer, and Butts. The afternoon features a live band and lessons from a true pitmaster. Saturday is the main event with the Grand Tasting. Spend the day sipping, swirling, and studying some of the best wines in the world. Enjoy seminars from wine connoisseurs, live music, hors d'oeuvres, and more. Rosé and Croquet finishes out the long weekend. Find your team of four and sign up for an afternoon of brunch, booze, and a friendly game of croquet.
View this post on Instagram
2. Sandestin Gumbo Festival
This two-day event kicks off each year on a Friday in February with a seafood boil party. The next day, the Sandestin Gumbo Festival's main event takes place and you better bring your stretchy pants! Dozens of participating restaurants from the area face off and see who can make the best gumbo. Guests get to sample the gumbos and vote for the "People's Choice" winner. Celebrity judges name the "Area's Best" gumbo.
3. 30A Songwriters Festival
Each January, the 30A Songwriters Festival brings a stellar lineup of Americana, country, blues, alternative, and folk songwriters and performers to South Walton County. This is definitely one of the best festivals in 30A! Many people buy their tickets to catch some of the hottest musicians within those genres, but it's also the perfect place to discover some amazing lesser-known artists. All proceeds from the festival benefit the local nonprofit Cultural Arts Alliance of Walton County.
4. Sparkling Wine and Holiday Lights Festival
The Sparkling Wine and Holiday Lights Festival is a Christmas tradition and sparkling wine tastings wrapped in one! Try labels from around the globe. If champagne isn't to your liking, indulge in sweet Rosé or cheeky Prosseco. Baytowne's best restaurants provide chef-crafted hors d'oeures. While you sip your bubbly, watch the first Baytowne tree lighting of the season and a holiday-themed light show.
5. Harvest Wine and Food Festival
Held in November, the Harvest Wine and Food Festival has quickly become a favorite within 30A! The now four-day event allows participants to enjoy unique wines from around the world along with superb culinary dishes. Make sure to get your tickets early because the festival typically sells out before the event.
View this post on Instagram
6. Baytowne Beer Festival
The Baytowne Beer Festival is known as "the best beer fest on the Emerald Coast." This two-day event in October hosts more than 40 on-site craft brewers, nearly 200 domestic and international craft beers, seminars, samplings, and live music.
7. South Walton Beaches Wine & Food Festival
The South Walton Beaches Wine & Food Festival (also known as the Grand Boulevard Wine Festival) happens in April each year. Known as one of the most anticipated festivals on 30A, this event features a wide variety of winemakers, chefs, craft brewers, and some additional special guests. Plus, all proceeds benefit the Destin Charity Wine Auction Foundation for local children in need.
8. Destin Seafood Festival
Locals like to boast that Destin is "the World's Luckiest Fishing Village." The access to deep water and the fish that swim there account for most of Destin's popularity with anglers. It takes at least twice as long to reach these depths in most other Gulf waters. Join the locals the first weekend in October for the annual Destin Seafood Festival. The event is free and held at Destin Harbor. Children love the kid zone with rock climbing walls and zip lines, while the adults love tasting fresh seafood from all the local restaurants and vendors.
View this post on Instagram
9. The Market Shops Bloody Mary Festival
We all need to eat more vegetables and a Bloody Mary counts as a vegetable, right? The Market Shops hosts the annual Bloody Mary Festival benefiting Habitat for Humanity Walton County. The event welcomes many favorite restaurants, bars, and culinary artists from around South Walton and Destin. Ticket prices start at $40.
10. Festival of the Arts
The Mattie Kelly Art Foundation hosts the Festival of the Arts each year at the end of October. This world-class arts event showcases more than 65 local and national artists. Enjoy 18 different mediums as the artists compete for a $10,000 award. The free event also features live music as well as food and drink vendors.
11. Art Month South Walton
Celebrate South Walton's vibrant and growing arts and culture scene throughout the month of May. Hosted by the Cultural Arts Alliance of Walton County, Art Month South Walton features six different exhibitions along the 30A corridor. Events include the South Walton Street Art Festival, the ArtsQuest Fine Arts Festival, the Seaside Writer's Conference, Digital Graffiti in Alys Beach, the Northwest Florida Theatre Festival, and the Rosemary Beach Sculpture Exhibition.
12. Flutterby Arts Festival
Also produced by Cultural Arts Alliance of Walton County, the Flutterby Arts Festival celebrates the migration of the monarch butterfly through 30A with a parade, art exhibits, live entertainment, and family-friendly activities. This event typically takes place in the fall.
13. Seeing Red Wine Festival
If you're visiting 30A in November, head over to the Seeing Red Wine Festival in Seaside for a taste of Southern tradition and excellent wines. Spend the day soaking in temperatures in the 70s in the picturesque beach town The Truman Show was filmed in and enjoying some amazing wines.
View this post on Instagram
14. Watercolor Film Festival
Every year in November, Mountainfilm on Tour returns to WaterColor Marina Park Amphitheater. According to Mountainfilm's website, the two-day film festival showcases "themes connected to the Mountainfilm mission of inspiring audiences to create a better world."
15. Sandestin Wine Festival
The Sandestin Wine Festival is held in April and is known as the "Kentucky Derby of Wine Festivals." Featuring hundreds of domestic and international wines accompanied by elaborate Gulf Coast seafood cuisine, this festival is a great way to spend a spring weekend at the beach.
Stay Near All of the Best Festivals on 30A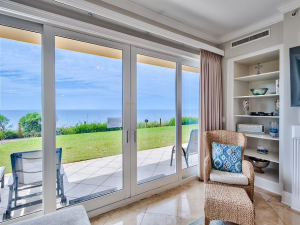 The easiest way to attend any of these events is to book one of our beachfront condos located within minutes of 30A's hottest areas! Whether you stay in our Adagio, San Remo, or Villa Coyaba condos, you're sure to have an unforgettable vacation along Florida's Emerald Coast. Choose Adagio if you're traveling with a large group; these condos feature three- and four-bedroom layouts that can accommodate everyone comfortably. Our two- and three-bedroom San Remo condos are perfect for smaller families. Finally, our Villa Coyaba condos in Destin feature private beach access, beach chair service, and many other perks. All three resorts boast amazing amenities and concierge services!
Browse all of our properties and book your stay in 30A today!