There are so many ways to spend time with loved ones along scenic highway 30A. Located in the panhandle of Florida, this one-of-a-kind region overlooks the absolutely stunning, emerald green Gulf of Mexico. Enjoy everything from local brewpubs to seasonal festivities like the 30A Songwriters Festival. Here is everything you need to know about this exceptional event!
Before packing your bags, be sure to make an itinerary! Whether you're looking to paddleboard, soak up the sun from a beach chair, or discover your inner child at one of 30A's family-friendly attractions, you'll find just what you're looking for here. Get our complimentary YFAB's Vacation Guide and we'll send you a complete list of our hand-picked local recommendations!
What Is the 30A Songwriters Festival?
A Great Way to See Your Favorite Artists and Discover New Ones
Many people come to the 30A Songwriters Festival to see some of their favorite artists perform, but it's also a great way to discover other, lesser-known musicians. Each January, the festival brings a stellar lineup of Americana, country, blues, alternative, and folk songwriters and performers to South Walton County. Normally, there are over 100 songwriters and close to 300 performances over the course of the event's three-day duration. Be sure to check this year's lineup to see who is coming to town!
The 30A Songwriters Festival isn't just a great time; it's a fundraiser, too! All proceeds from the festival benefit the local nonprofit, Cultural Arts Alliance, which assists in perpetuating the area's musical and creative excellence. After all, 30A is much more than a beautiful beach destination. The festival is a critical part of the Cultural Art Alliance's mission, so it's an event you can feel great about attending.
A Weekend of Exceptional Food and Drink
In addition to non-stop concerts at various South Walton County venues, the event features plenty of tasty refreshments. On the first Friday and Saturday of the festival, award-winning guest chefs offer four-course dinners to V.I.P. ticket holders. During many of the festival's performances, complimentary food, wine, and cocktails are offered to V.I.P. attendees. Additionally, certain local bars and eateries offer transportation packages and food/drink specials throughout the weekend.
Come Back to Your Luxurious, Gulf-Front Condo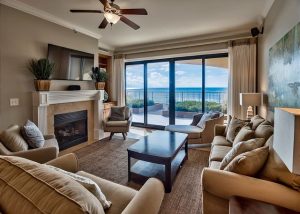 Come to 30A for the Songwriters Festival, then stay for the locals' unmatched hospitality. Let us be Your Friend at the Beach! Choose to stay in one of our luxury beachfront condos on Blue Mountain Beach, Santa Rosa Beach, or Crystal Beach in Destin, Florida. All of our accommodations are spacious, immaculately maintained, and offer access to countless premium amenities. If you and your family or friends need additional help during your trip, be sure to opt into our concierge services!
Ready for an unforgettable experience at the 30A Songwriters Festival? Check our availability today and start looking forward to the musical event of a lifetime!