If you're looking for a delicious treat while vacationing on 30A, look no further than the many local bakeries that fill the area! 30A is full of delightful restaurants, bakeries, and coffee shops, sure to satisfy everyone you're traveling with! Here is our list of the best bakeries along 30A.
Make the most of your getaway to 30A when you request access to our complimentary Vacation Guide. It's packed with the best attractions and activities for your family to explore along the Emerald Coast!
1) Blue Mountain Bakery
Blue Mountain Bakery is a local favorite situated in Santa Rosa Beach. This bakery is known for its organic baked goods, locally roasted java, and breakfast & lunch menu items. They also provide takeout and delivery!
Blue Mountain Bakery offers a wide variety of baked goods, so there's something for everyone to enjoy! If you're looking for a delicious treat while vacationing in Santa Rosa Beach, be sure to check out Blue Mountain Bakery.
2) Black Bear Bread Co.
Black Bear Bread Co. is another wonderful bakery with multiple locations along 30A in Grayton Beach, Seaside, and Miramar beach. They are known for their artisan breads, pastries, breakfast and lunch items, and Stumptown Coffee.
Check out all their 30A locations here and stop by their gift shop for a souvenir before you leave town!
3) Donut Hole
Stop by another local favorite – The Donut Hole! The Donut Hole Cafe & Bakery offers a plethora of breakfast, lunch, and dinner items and a wide variety of bakery items for purchase. One of our favorites has to be their legendary Key Lime Pie. You can find Donut Hole locations throughout the 30A area, specifically in Destin and Santa Rosa Beach, conveniently located near our vacation condos.
They get extremely busy on Sundays, but it's definitely worth the wait!
4) Parlor Doughnuts
You can't possibly think about treating yourself to delicious baked goods along 30A without also picturing doughnuts! That's where Parlour Doughnuts truly shines. With multiple locations spanning the Emerald Coast, you can enjoy some of the best doughnuts in the state, from Panama City Beach all the way to Pensacola.
Find a location near you and treat your friends and family to a fresh box of doughnuts and carafe of drip coffee!
5) Amavida Coffee Roasters
If you're looking for a delicious cup of coffee to go with your baked good, be sure to check out Amavida Coffee Roasters. This local favorite has multiple locations along 30A and Panama City Beach.
Amavida is known for their commitment to quality, freshness, and giving back to local communities and organizations. They roast all their organic coffee in-house, ensuring that every cup is as fresh as possible. They're also well-known for their breakfast items and pastries, including croissants.
Amavida is proud to be a certified Carbon-Neutral, Plastic-Neutral, and certified B-Corp company. If you want to drink a delicious cup of coffee along with your baked good and make a difference all at the same time, visit Amavida!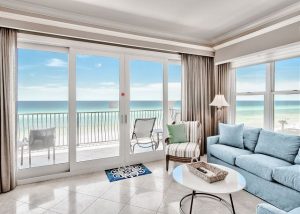 Settle into Style with a Beautiful Beach Rental
There's never been a better time to book your sweet getaway to 30A. When you're looking for luxurious and welcoming vacation rental accommodations to match, Your Friend at the Beach has you covered.
Our collection of condos along 30A is ideal for travelers of all types and offers up easy access to fun while providing a collection of amazing amenities to make for an unforgettable journey. Savor every second in your home along the shores of 30A whether you opt for a Villa Coyaba condo, a spacious condo in Adagio, or a beautiful San Remo condo.
Book today to start turning those exciting travel plans into a well-deserved reality!