Travelers that are looking for a scenic getaway destination where coastal charm can be paired with endless fun will find it all and more in Santa Rosa Beach, Florida. This stunning and welcoming locale is loved by adventurers from across the map for its incredible natural beauty, sugar-white stretches of shoreline, and turquoise waves to top it all off in fantastic Florida style. Situated along the state's Northwest coast, Santa Rosa Beach stretches 26 miles long and is integrated into an area made up of 16 unique coastal communities across South Walton County. Whether you're looking for a place where you can settle into a luxury rental, enjoy upscale dining, or are hoping to get out on the water and into nature, Santa Rosa Beach is made for you. From the art galleries and state parks to the museums and breweries, it's a destination that offers up the best of it all.
For more ways to make the most of your trip to the Emerald Coast, be sure to request access to our complimentary Vacation Guide. It's full of the best things to do and places to see on your beach getaway. 
Local Restaurants to Check Out
Santa Rosa Beach is brimming over with flavorful stops to enjoy and there is an array of options to choose from when cravings come calling. Those who are here and find themselves craving coastal cuisine with European flair will want to head over to Café Tango. Located at 14 Vicki Street, this charming café serves up savory bites in a casual, yet upscale environment with friendly service to match. Pasta, steak, and seafood alike grace the menu at Café Tango while the wine list is just as impressive.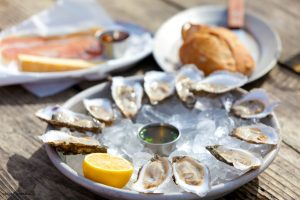 For travelers that are looking to pair patio seating and live music with their favorite American fare, a stop at Louis Louis is always a delight. Situated at 35 Mussett Bayou Road, this café and eatery is decorated with inspired artwork and the chandeliers overhead illuminate diners and dishes that include everything from crab cakes and pork tenderloin to pasta and salmon just to name a few. While the food here is fantastic, it's the handcrafted cocktails that top things off in a sweet way.
Seafood lovers will find their fill at Down Island Gulf Seafood Restaurant while they're in town. Head over to 2780 US-98 to enjoy a meal where wood-fired seafood, Gulf South favorites, and a raw bar are infused seamlessly into the dining experience. While the wood-fired oysters are sure to please the palate, it's hard to go wrong with menu options like BBQ shrimp and Gulf Tuna waiting to be savored.
Attractions & Activities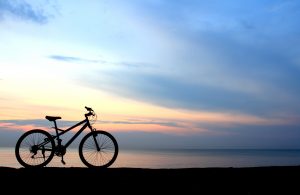 Santa Rosa Beach is a place where travelers with all types of interests can pursue their passions with ease. Those who are looking forward to time in the great outdoors will find afternoons spent at Grayton Beach State Park to be a highlight of their journey! Hiking, biking, and boating are all popular activities to enjoy here year-round. A visit to Point Washington State Forest is a fantastic way to embrace the best that nature has to offer in Santa Rosa Beach. This destination is filled with trails and a prime place for wildlife photographers to find their subjects. If you're willing to take your adventures below the waves, you'll want to check out the Underwater Museum of Art! Accessible off 357 Main Park Road, this permanent underwater sculpture garden sits 58 feet below the surface and can be visited by booking a specialized dive trip. Travelers who are looking to shop will want to be sure to add a stop at the Grand Boulevard Market to their itinerary. This local farmers market is open Saturdays from 9:00 am until 1:00 pm at 600 Grand Boulevard.
Fun Local Events
No matter when you arrive in Santa Rosa Beach, you're likely to find you're in town at the same time as a fun annual festival. January travelers will be right on time to enjoy the 30A Songwriters Festival. This one-of-a-kind gathering invites over 250 artists to come together over four days to perform, learn, and grow their craft. It's an artistic experience that's as beneficial for artists as it is incredible for spectators.
Book Your Stay in Santa Rosa Beach Today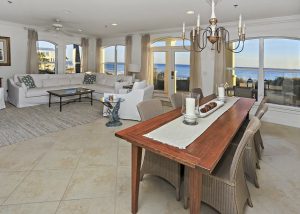 Make even more of your Santa Rosa Beach adventure when you book an incredible vacation rental through the property professionals at Your Friend At The Beach. Our captivating collection of property options is designed to inspire! Get in touch today to learn more and to start planning your next trip.