Destin, Florida, is a scenic and sunny vacation destination that has a way of beckoning travelers back year after year with good reason. Between the emerald waters, sugar-white sands, and a seemingly endless lineup of shopping stops and restaurants to check out, there are plenty of reasons for visitors to fall in love with their surroundings here. Destin enjoys a place on the stunning Gulf of Mexico along the Florida panhandle and was once a quiet fishing village.
These days, Destin offers visitors a more vibrant take on a getaway experience complete with access to savory seafood options, amazing golf courses, watersports galore, and inspiring marine life as well. No matter what your idea of an ideal Florida getaway might be or what your itinerary entails, Destin checks every box on that must-have list. Of course, energizing up for the fun often starts with a cup of coffee or two. Not to worry!
Destin is packed with incredible coffee shops to check out while you're in town that curb a craving for caffeine while also offering up charming surroundings when you could use a break to kick back in style. The following are just a few of the best coffee shops in Destin that you're going to want to be sure to add to your itinerary the next time travel plans bring you this way. 
Make the most of your getaway to Destin when you request access to our complimentary Vacation Guide. It's packed with the best attractions and activities for your family to explore along the Emerald Coast! 
Savor a Sip at Capriccio Café
Located at 810 Harbour Boulevard, Capriccio Café is a must-try venue when you're looking for the best of imported Italian coffee served up in a welcoming and scenic setting. Capriccio Café offers guests access to big flavor that can be enjoyed in charming surroundings complete with options to settle into cozy sofas within as you sip that morning cup.
Integrated into the greater Shoreline Village Mall, Capriccio Café is a locally owned and well-loved coffee hot spot in town that just might be the savory highlight of your getaway. In addition to a full menu of coffee options, this stop serves up mouthwatering salads, crepes, pastries, and sandwiches throughout the day as well. Looking for cheese and meats imported from Italy to enjoy during a visit? They have those too! Capriccio Café serves up a taste of Italy on the Gulf Coast and is known for its friendly service to match.  
Enjoy Ever Delicious Moment at Café Destin
If you find yourself around the Winn Dixie Plaza the next time you're in Destin, and you could go for an energizing beverage with a snack to match, head over to Café Destin and savor every moment. Located at 985 US-98 East, Café Destin is open daily between 7:00 am and 2:00 pm and provides visitors with a welcoming and spacious place to settle in and enjoy a cup of joe or a full breakfast. Indoors, guests can enjoy cozying up with their cups on a variety of plush sofas while a collection of charming tables also await to gather around when you're there with family or friends.
When the weather is just right, and you prefer a fresh-air moment, simply head to their outdoor seating area, and enjoy the flavors and the view. Café Destin conveniently offers guests access to free wi-fi, and if you're visiting with a canine companion in tow, the dog-friendly patio is the perfect place to sip your way through a stay. This is a very family-friendly coffee shop that also offers full-service breakfast, brunch, and lunch selections. The espresso menu is featured all day long and the friendly service can always be counted on as well.  
Delight in a Well-Earned Caffeine Kick at Wild Coconut Café
For the traveler that longs for a coffee shop experience complete with inspiring aesthetics to top off the moment in style, time at Wild Coconut Café in Destin promises to please. Situated at 140 Palmetto Street, this one-of-a-kind café is open daily from 7:00 am until 2:00 pm and serves up a full breakfast menu as well as innovative coffee options that are designed to delight the tastebuds. Guests to Wild Café are invited to take a seat in one of the many cozy couches that adorn the space and enjoy their beverage.
While you sip your morning away, be sure to enjoy views of the captivating and colorful murals that cover the walls and make for an eye-catching moment. What began as a coconut boat at Crab Island has grown into a full-fledged coffee experience in Destin, much to the delight of local and visiting coffee enthusiasts alike. The menu here features everything from drip coffee and lattes to cold brews and hot roasted delights. When you're looking for a unique twist on your coffee experience, be sure to order up a signature coffee special which often comes with a special message written on top! 
Check Out The Palms Coffee House
Capturing the essence of a well-earned coffee break is easy to do at The Palms Coffee House in Destin. Located at 4201 Indian Bayou Trail, this stop is open between 7:00 am and 4:00 pm Sunday through Wednesday and enjoys extended hours Thursday through Saturday until 10:00 pm. The Palms Coffee House is situated within the lobby of the greater Palms of Destin Resort & Conference Center, making it an easy one to access and add to your must-try itinerary while you're in town.
A collection of savory signature coffee drinks is yours for enjoying when you make your way to The Palms Coffee House, but the menu goes far beyond that first cup of the day. Here, visitors can also order delicious small bites that include options like cookies and muffins, just to name a few. While the Palms Coffee House is a great place to grab a drink during the day, some evenings of the week, this locale also hosts a paint night. $35 will get you into this creative experience which includes a drink. Be sure to keep your eye on the event calendar for upcoming fun!  
Settle into Style with a Beautiful Beach Rental to Match Your Stay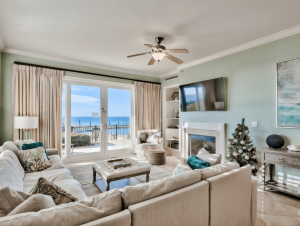 There's never been a better time to book your Destin getaway, and when you're looking for luxurious and welcoming vacation rental accommodations to match, Your Friend at the Beach has you covered.
Our collection of condos near Destin is ideal for travelers of all types and offers up easy access to fun while providing a collection of amazing amenities to make for an unforgettable journey. Savor every second in your home along the shores of 30A whether you opt for a Villa Coyaba condo or can't wait to get settled into a San Remo dream home away from home.
Book today to start turning those exciting travel plans into a well-deserved reality!