There's no better way to immerse yourself in 30A's local scene than with a trip to the market. They give you the opportunity to find the best local produce and unique food items! Explore the vendors, shop local, and get the area tips from the people who know it best. We've laid out everything you need to know about the two best farmers' markets in Destin.
For everything else the Emerald Coast has to offer, be sure to request access to our complimentary 30A Vacation Guide! It's full of the best restaurants, shopping, and things to do in the area!
Everything You Need to Know About Farmers' Markets in Destin
Seaside Farmers Market
The Atmosphere
Part of the special farmers' market experience lies in the atmosphere. Picture this: You pull up to the market. Right away, you notice a beautiful, grassy knoll with tents on either side of the sidewalk. You see happy children running around, laughing, and playing. Your child runs to their new friends, who welcome them to their play place. You walk around, exploring each tent, but you're still able to keep an eye on the kids. After you shop, you lay a blanket down on the grass and listen to live music. At this farmers' market, a truly perfect day for the whole family awaits.
The Vendors
More than 30 vendors set up for the Seaside Farmers Market at the Seaside Amphitheater each week. This cast of characters includes farmers, bakers, and craftspeople. Their mission is to provide fresh, consciously produced, and sustainable products. They also want to foster awareness of seasonality and sustainable farming practices, which they achieve by interacting with locals and visitors alike! Some of our favorite vendors include the Black Bear Bread Company, Ocheesee Creamery, Sarah K's Gourmet, and The Caveman's Cupboard. Whether you're looking for fresh vegetables, pasta, or 30A seafood, you'll find it at the Seaside Farmers Market! It's open year-round on Saturdays from 9 a.m. to 1 p.m.
Why Should You Visit?
Farmers' markets are a valuable aspect of any community. They allow for direct access to local food, which is often much fresher than what you find in a grocery store. Farmers' markets are also better for the environment! By purchasing goods at a market like the one at Seaside, you're ensuring the future of farming. These markets are also fantastic places to enjoy the fresh air and socialize.
Tips for Visiting the Seaside Farmers Market
Arrive early – Parking can be tricky. If you are already checked in at one of our Adagio condos, you can grab one of the two bikes we reserved for you and ride over.
Bring reusable bags – Hold all of your goodies in a sustainable way.
Come hungry! – Not only can you bring food home, but just about every vendor offers samples and (sometimes) full meals.
Bring cash – Although many vendors accept debit and credit cards, you don't want to miss out on something because you only brought plastic.
30A Farmers' Market
The 30A Farmers Market is your source for the freshest produce and delicious treats to take back home. Vendors range from grass-fed beef farmers to crispy ciabatta bread bakers. Here's our guide to exploring everything the market has to offer.
Where Is the Market?
30A Farmers' Markets in four different locations—Rosemary Beach, Palm Plaza in Niceville, Seascape Resort at Miramar Beach, and Grand Boulevard at Sandestin. The biggest of the bunch is the market at Rosemary Beach, which offers an array of local produce along with dairy products, jams, jellies, pet treats, bath products, and so much more. You can't miss it in the town's center. Street parking is available first-come, first-serve.
When Can I Visit? 
There's no better way to spend a lazy Sunday than by perusing the Rosemary Beach market. Vendors are on site from 9 a.m. to 1 p.m. year-round. If you're visiting on a Saturday, check out the Palm Plaza or Grand Boulevard market. Both are open year-round from 9 a.m. to 1 p.m. The Seascape market is the only mid-week farmers market in the area. It's open seasonally on Wednesdays from 9 a.m. to 1 p.m. This makes it the ideal stop to break up your busy week! 
Which Vendor Do I Visit First?
While each of the one-of-a-kind vendors at the market deserves a stop during your trip, here are a few of our favorites to get you started.
Unwind With Your Friend at the Beach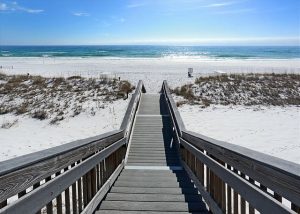 After visiting the farmers' markets in Destin, come back and spread out in one of our condos in Adagio, San Remo, or Villa Coyaba! Unpack your fresh produce and goodies in your well-equipped kitchen and start planning your next home-cooked meal. We make it easy for you to choose a location that's closest to the market you want to attend. Plus, you'll get to enjoy a collection of amenities, including private pools, gyms, and outdoor dining areas. All of our properties sit on the pristine shores of 30A, so the distance from your front door to the sand is only a few steps. 
Want to step your meals up a notch? Schedule a private, local chef to show you the Gulf Coast cuisine ropes. Make your trip to 30A one to remember!
Check our availability now and start looking forward to a fun farmers' market trip!