When the craving hits, there's no substitute for seared scallops, flavorful shrimp, and fresh oysters. Vacationing in 30A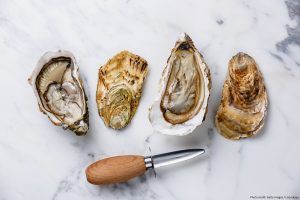 means that you get to enjoy the freshest and tastiest seafood available! You want to make sure your coastal cuisine is expertly prepared, so why settle for less than the best? When you're so close to the Gulf, you'll find an abundance of restaurants that specialize in just what you're craving: Fresh, tasty food straight from the ocean. Here are just a few of the restaurants that offer some of the best seafood in 30A!
If you're hungry, you won't want to sift through the countless restaurant options that appear in a Google search. That's why we've done the research for you! YFAB's Vacation Guide is a comprehensive list of recommendations for the area's best events, shops, historic sites, and more. You'll even learn more about the best spots for seafood in 30A!
Where to Find the Best Seafood in 30A
Shunk Gulley
For our guests staying in San Remo condos, Shunk Gulley is within walking distance. This is the restaurant to go to if you're craving oysters on the half shell, in particular. Not only does Shunk Gulley serve some of the freshest oysters in town, but they are the best priced! For the ultimate seafood dining experience, plan to arrive around sunset and enjoy the fabulous view. Or, make a late evening out of it and stay for great live music and delicious drinks.
Harbor Docks
Harbor Docks serves up some of the best seafood in 30A. We love that this excellent spot for lunch in 30A comes with a spectacular view! Come at sunset for an unforgettable, bright orange display in the sky as fishing boats come and go in the harbor. For guests staying in one of our beautiful  Villa Coyaba condos, Harbor Docks is right around the corner. This is a restaurant that you can visit for breakfast, lunch, and dinner; there's a diverse menu for each time of day. Try the sushi for something different, or stuffed Gulf shrimp for something more traditional.
Shrimpers Seafood
If you've got a kitchen in your condo that you're just dying to make use of, you can find fresh seafood at this market (which is conveniently located off of Highway 98). Traveling from Destin? You'll pass Shrimpers on the left on your way in. This market receives fresh fish every day right out of the Gulf, so it's a good choice if you want the variety and quality that daily deliveries provide.
Goatfeathers
Goatfeathers gives you the option of either buying seafood from its market downstairs or eating at its full restaurant, which is located upstairs. This establishment is convenient for guests staying at Adagio condos. It boasts a great selection of fresh shrimp and seafood! If you're picking up some shrimp, be sure to ask them to steam it for you. Finally, you'll be missing out if you leave without picking up one of Kenny's famous key lime pies!
Sexton's Seafood Market
This market is in the heart of Destin off of Harbor Boulevard. Sexton's Seafood Market gets fresh seafood delivered daily, but make sure to bring cash. They do not accept credit cards, which is one of the ways they keep their prices low.
Book With Your Friend at the Beach Today!
The best seafood in 30A is within reach no matter which of our fabulous accommodations you stay in! Any of our luxurious condos give you the opportunity to explore the top restaurants in 30A and many other things to do along Florida's Emerald Coast. You'll experience stunning views of the Gulf, carefully chosen decor, and extensive concierge services that will make you feel right at home. Choose from services like beach bonfire setup (and teardown), crib rentals, private chefs, and more!
What are you waiting for?
Check our availability today
and find out for yourself which places truly offer the best seafood in 30A!
Hungry for more local insight? Learn more about 30A's best restaurants or the South Walton Beaches Wine and Food Festival!