We know you're stuck at home right now, which means it's the perfect time to plan the ultimate road trip. When the #CoastIsClear you'll be ready to hit the beach, and we have everything you need to know about traveling to your favorite sugary sand shores. Let's virtually pack the bags, load the car, and head south. Regardless of where you're coming from, there's an awesome pit stop waiting for you. Discover the best of for a Destin/30A road trip.
While you're riding in the passenger seat, plan your beach trip with the exclusive YFAB's Vacation Guide! Our complimentary guide offers hand-picked suggestions on dining, entertainment, and all of the must-sees in Destin and 30A. 
The Best Stops For Your Destin/30A Road Trip
They say the fun is in the journey, and there's nothing like a beach road trip to prove that theory. Make the most of your Destin/30A road trip with our guide to must-see stops. You have to make the drive—let's make it fun! 
Mobile, AL | 2 Hours to Destin/30A
There is so much to see and do in the coastal city of Mobile. Take the kids on a tour of the USS Alabama battleship, take an airboat express across the city line, explore alligator alley, or grab lunch aboard the Perdido Queen. Mobile is a city of hospitality and family fun. You'll want to circle it during your next Florida road trip!
Baton Rouge, LA | 5 Hours to Destin/30A
The Antebellum capital of Baton Rouge is rich with southern history, culinary delights, and everything LSU. It boasts a retired WWII Destroyer, the USS Kidd, parked at its final resting place along the Mississippi River. Catch a show at The Basin Music Hall or visit the otters and elephants at the Baton Rouge Zoo.  
Jackson, MS | 5 Hours 15 Minutes to Destin/30A
Mississippi's capital city is booming with exciting activities to break up any boring road trip. Visit the Mississippi Museum of Natural Science and enjoy the vast aquariums and outdoor nature trails. If you're traveling with little ones, check out the Mississippi Children's Museum for captivating exhibits designed with little hands in mind. 
Tallahassee, FL | 2 Hours 30 Minutes to Destin/30A
Just because you've passed through the Florida state line doesn't mean you have to floor it to your destination. Tallahassee offers an array of adventures to break up a monotonous trip. Swing into the Challenger Learning Center and catch an immersive space experience. Or stop by Lofty Pursuits for an old fashioned soda fountain or a root beer float.  
Arrive at Your Luxurious Condo From Your Friend at the Beach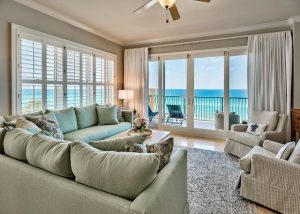 The only thing you'll love more than an exciting road trip is your fabulous vacation rental from Your Friend at the Beach! All of our condos come equipped with well-stocked kitchens, stylish furnishings, views of the Gulf or one of our stunning pools, and the friendliest five-star service. 
Simplify your road trip with our convenient concierge services. Order our grocery service and have everything you need waiting for you right in your condo. Need a crib? Just let us know, and we'll have it ready when you get here! We can't wait to welcome you to 30A!