Hello from the Beach! Your Friend at the Beach specializes in upscale Gulf front condos at Adagio. Each one is uniquely appointed for your family's beach getaway. But the corner on popularity goes to… (drum roll please) corner condos! Yes, guests love to have another whole wall with the view of our emerald green water and the Florida sunsets on 30A.
Newly Updated Exquisite Adagio A305
On the western side of A building at Adagio, this exquisitely appointed beach condo features newly-updated living room furniture. The large outdoor dining table invites you to dine al fresco – or sip your wine at sunset in the comfortable chaise lounges. The Gulf front pool is just steps away, you can take the elevator or just run down the steps outside your door. Adagio has its own private beach with beach chair service available. From Adagio A305, it is just a minute to the beach walkover between B and C buildings. New photos going up this week at www.BookNowA305.com so check your summer calendar now and reserve your stay at Adagio A305.
Spectacular and Serene Adagio A401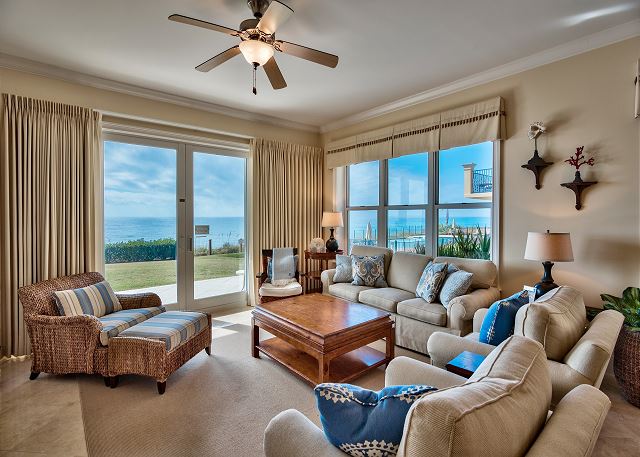 If you are looking for a corner condo that is more private, our newest Gulf front Adagio A401 is perfect. On the east side of A building – with no other condos to the east, the view is spectacular and the setting serene. Sip your morning coffee and see the sunrise; then watch the dolphins swim by. Never rented, the new owner has added fresh new mattresses so that your vacation is truly a restful one. Bedrooms include:
* Master bedroom with romantic poster bed with king mattress
* Second bedroom with king-size bed
* Third bedroom with two queen beds
* Fourth bed with whimsical twin beds Reserve Adagio A401 at www.BookNowA401.com now – or call for special introductory rates at 850-586-2978.
Looking out to sea in C building, our corner C401 is one of our most popular for so many reasons. There's lots of light as you stretch out on the comfortable new sectional. For our friends who suffer from allergies, the all new tile floors in the bedrooms make for an allergy-free stay. There are two king bedrooms – the master with its own private bathroom – plus a second king bedroom with adjoining bath. Our friends at the beach love the Jack and Jill bathrooms connecting the queen bedroom and the fourth bedroom with two full-size beds. Reserve it now at www.BookNowC401.com as this corner condo is filling fast!
Ground Floor Opportunity – A105 Yes, you love a corner condo – but you really would love the ground floor so you can walk right out to the pools and beach? Look no more! Adagio A105 is just what the doctor ordered for young ones who love to romp on the grassy area – and their parents or grandparents who would prefer to watch them from the ease of the patio. Adagio A105 just took delivery of all new patio furniture. You'll never want to leave the plush seating overlooking the Gulf of Mexico at its highest point. A new Pottery Barn dining table sets the scene for fun family dinners. Adagio A105's kitchen like all of YFAB's is well equipped with everything from a crock pot to a shrimp pot. You can see the Gulf front pool from the windows along the side…
Just out the front door of A105, you will find one of the four gas grills conveniently located for your grilling pleasure. I just checked the calendar – and we have a week open at Easter for A105. Come hide the Easter eggs on the grassy area outside. Reserve now at www.BookNowA105.com.
If you are coming with a smaller family and really don't need the four bedrooms offered by all the Gulf front condos, your friend at the beach has three bedroom condos at Adagio. Of the five pool fronts that we manage, we have two corner condos in E building.
Cool, Comfortable Adagio E101
Adagio E101 is on the corner nearest the Gulf side. It's been designed with the cool beach colors everyone is looking for and it has an extra bunk room. I can attest that the living area has a very comfortable sectional couch. My husband and I spent a getaway weekend there recently and he kept nodding off as sat on the couch watching golf on the large flat screen TV! No need to fight over who gets the king beds if there are two couples since there are two bedrooms with king beds. The children love the two full size beds with their own bathroom. And don't forget the bunk room! But please hurry and reserve now. It's is our most popular pool-front, corner condo. Soon there will be no weeks left. Reserve now at www.BookNowE101.com.
And finally, our newest corner condo is Adagio E305. The new owner has updated the condo with new living room furniture, new bedding and it has the very popular extra bunk room. It too has two king bedrooms and a third bedroom with a queen bed. And even though it is not a corner condo, you should know we also have the condo next door Adagio E304 so bring friends! You can receive a group discount if you reserve both at www.BookNowE304.com orwww.BookNowE305.com.
Every condo has newly updated kitchens so you will find plenty of place settings, silverware, pots, pans and, of course, wine bottle openers! Missing something? That's what friends are for. Call your concierge at the beach, my daughter Tori, and she'll see it's delivered. More on our concierge services in our next Beach Blog.
Don't wait. Reserve for late spring and summer – we are filling up corner condos quickly! Go to www.YFAB.net to secure your perfect beachfront vacation. Summer is just around the corner! Or call me, Nancy, your friend at the beach to ask about available weeks at Adagio.