There's no better way to immerse yourself in 30A's local scene than with a trip to the market. You'll find the best local produce and unique food items at the 30A Farmers Market! Explore the vendors, shop local, and get the area tips from the people who know it best. For additional suggestions about where to go in Rosemary Beach, access our exclusive YFAB's Vacation Guide.
Everything You Need to Know About the 30A Farmers Market
The 30A Farmers Market is your source for the freshest produce and delicious treats to take back home. Vendors range from grass-fed beef farmers to crispy ciabatta bread bakers. Here's our guide to exploring everything the market has to offer.
Where Is the Market?
There are 30A Farmers Markets in four different locations—Rosemary Beach, Palm Plaza in Niceville, Seascape Resort at Miramar Beach, and Grand Boulevard at Sandestin. The biggest of the bunch is the market at Rosemary Beach, which offers an array of local produce along with dairy products, jams, jellies, pet treats, bath products, and so much more. You can't miss it in the town's center. Street parking is available first come, first served.
When Can I Visit? 
There's no better way to spend a lazy Sunday than by perusing the Rosemary Beach market. Vendors are on site from 9 a.m. to 1 p.m. year-round. If you're visiting on a Saturday, check out the Palm Plaza or Grand Boulevard market. Both are open year-round from 9 a.m. to 1 p.m. The Seascape market is the only mid-week farmers market in the area. It's open seasonally—on Wednesdays from 9 a.m. to 1 p.m. This makes it the ideal stop to break up your busy week! 
Which Vendor Do I Visit First?
While each of the one-of-a-kind vendors at the market deserves a stop during your trip, here are a few of our favorites to get you started.
Unwind With Your Friend at the Beach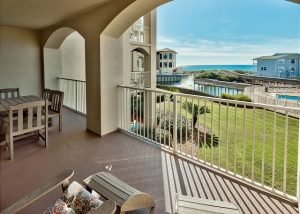 After visiting the 30A Farmers Market, come back and spread out in San Remo 204! The 2-bedroom, 2-bath condo comfortably sleeps up to six guests and features combined pool and Gulf views. Make the short, 2-minute walk to the beach and revel in exclusive beach chair service. Unpack your farmers market sack in your well-equipped kitchen and start planning your next home-cooked meal.
Want to step your meals up a notch? Schedule a private, local chef to show you the Gulf Coast cuisine ropes. Make your trip to 30A one to remember!
Check our
availability
now and start looking forward to a fun farmers market trip!