Get a bird's eye view of the crystal blue Gulf waters during your next 30A vacation. Set your sights high as your soar high above the sea with the wind in your hair and a parachute on your back. Have the ultimate adventure when you parasail in Destin and 30A Florida during your next getaway! 
Ready to learn more about 30A and Destin? Access our exclusive YFAB Vacation Guide and have hand-picked recommendations on where to eat and what to do delivered right to your inbox!
Where to Parasail in Destin and 30A Florida
Gain a new perspective when you parasail in Destin and 30A Florida. Whether you're searching for a relaxing trip across the beachline or something to excite the kids, this is one adventure that doesn't disappoint. 
Captain Jambo's Parasailing and Sailing Tours
As featured in Emerald Coast Magazine and Life's a Beach Magazine, Captain Jambo's Parasailing and Sailing Tours is one of the top-rated parasailing companies on 30A and Destin. The company offers three convenient locations on Crystal Beach, Silver Shells, and Miramar Beach. The family-owned sailing boats boast small group sizes, knowledgable captains, and the latest model vessels. 
Just Chute Me Parasail has been soaring above Destin for over 20 years. Fly 400-feet in the air with one or two of your favorite people. Just Chute Me has locations on Miramar Beach, Destin, and Sandestin, and they are the most recent recipient of the WSIA Parasail Operator of the Year award. 
Explore the Gulf with Gilligan's of Destin during your next getaway. Gilligan's provides top-of-the-line parasailing departing from their private dock in Destin. Discover the views of Destin, Fort Walton, and Okaloosa from 500-feet in the air. The company also offers pontoon and Waverunner rentals as well as dolphin tours.
Miramar Beach Parasailing
Miramar Beach Parasailing offers several unparalleled parasailing adventures. Dip in with the dolphins for a first-hand experience with some of 30A's most majestic creatures. Or experience the sunset like never before while soaring over the emerald waters. Discover everything that Miramar Beach Parasailing has to offer during your next visit!     
Sail Back to Your Friend at the Beach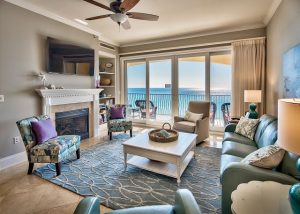 Enjoy a day in the sky, and then come back to your home away from home on South Walton Beach. Book your luxury Adagio condo through Your Friend at the Beach, and unwind in the beauty of our sugary sands and crystal clear waters. Adagio offers an 8,000-foot center swimming pool, infinity edge beachside pool, stylish furnishings, well-stocked kitchens, and five-star service. 
But don't take our word for it—explore our five-star Google reviews! Vicky recently commented, "Everything about our stay was top notch! The condo, beach, pools, and sunsets were amazing!  We love the privacy of this place. Everything was easily accessible! The condo was clean and fully equipped with everything you need! This is our second time to visit this little piece of heaven, and Your Friend at the Beach always adds a special touch!  We will definitely be back!!" We look forward to welcoming you to 30A!