There are few vacation destinations as family-friendly as Destin and 30A! Take advantage of all the unique offerings that our area provides. After all, family vacations only come around once every year or so. Let's make the most of it! Below is our guide to help you create the most exciting Emerald Coast family vacation yet.  
Are you ready to discover the best things to do and see on the Emerald Coast? Start by requesting a copy of our complimentary Vacation Guide. It'll point you in the right direction, so you experience only the best our area has to offer. The Emerald Coast is a destination unlike any other, and we want you to soak up every moment of your visit.  
This Is How to Plan the Best Emerald Coast Family Vacation
Make It Unique
Explore a few of the best-kept secrets of the Emerald Coast! You know all about the beautiful beaches found here, but what about the coastal dune lakes or the Underwater Museum of Art? You can hit the beach on any normal vacation, but you'll be happy to explore the unique attractions that make Destin and 30A so spectacular and memorable!  
Delicious Food with a View
What's a vacation without indulging in delicious cuisine on the water with the whole family? There are several waterfront restaurants around the Destin and 30A that offer fantastic views and even better eats. If you're searching for live music, harbor views, and fresh seafood, Boshamps is one of our favorites spots to go. After your meal, head down to the beach to find hammocks and beach games.  
Try Something New
Make this family vacation extra memorable by trying something new together. There are seemingly endless water sports available on the Emerald Coast, including surfing, parasailing, jet-skiing, and more!  
Your Friend at the Beach Welcomes You to
Destin and 
30A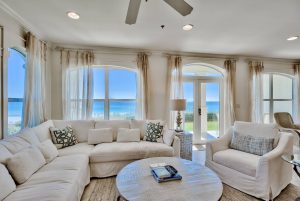 Are you ready to start planning your family getaway to the Emerald Coast? We're here to help! Reserve your room with Your Friend at the Beach to ensure beautiful views from your private suite, unparalleled quality, and top tier customer care from start to finish. After booking a condo at Adagio, San Remo, or Villa Coyaba, we'll work closely with you to ensure every need is met before you even arrive. That's why our guests named us Your Friend at the Beach. We're truly here for you! We can't wait to welcome you to 30A and help create your best family vacation yet. Check our availability and book your stay with us today.