Looking for a spot on Choctawhatchee Bay to enjoy a family meal? Maybe you're looking to spoil your special someone with a date night on the bay. Whether you're catching lunch or in between catching waves, Baytowne Wharf Restaurants boast an array of options to curb your appetite. Check out our list for the best pizza, seafood, and light bites around. When you're ready to hit the road, access our complimentary YFAB's Vacation Guide for all of our exclusive recommendations on 30A!
You Won't Want to Miss These Baytowne Wharf Restaurants
Sprawl out on one of the umbrella-covered patios or escape the heat inside of one of Sandestin's best restaurants. If you find yourself cruising the Village of Baytowne Wharf, be sure to swing by for a bite and a beautiful view at one of these popular eateries.
Slick Lips Seafood & Oyster House
Slick Lips Seafood & Oyster House is the newest addition to Baytowne Wharf. The seafood joint expertly blends chef-crafted entrees with a laid-back, family-friendly atmosphere. This restaurant's expansive outdoor patio sits on Fisherman's Cove, providing a picturesque 30A dining experience.
As you might imagine, oysters on the half shell satisfies shellfish lovers. However, you can't go wrong with any of the seafood at Slick Lips. It's all caught locally and delivered fresh to the restaurant! Bring the kids and split one of Slick Lips' largely portioned meals. Natives gush over the seafood gumbo making it a must-try. 
Want more of the best Gulf-coast seafood? Check out all of our recommendations! 
Marlin Grill
Spend your date night at the romantic Marlin Grill in Baytowne Wharf. The 5-star restaurant is located in the heart of the village. If the weather is nice during your visit, enjoy people-watching from their front terrace or revel in the elegant, white-tableclothed interior. The service is top-notch and the food is excellent. We recommend indulging in their aged-to-perfection steak and a buttery lump crab cake if you're craving a delicious surf and turf meal.
Cannery Lane Cantina
It's hard to miss the Key-lime green Cannery Lane Cantina in The Village of Baytowne Wharf. The Jamaican-style hut serves dishes filled with extraordinary flavor. The concept at Cannery Lane is simple—pick your base, your protein, and your toppings for your perfect Caribbean creation. If you're really hungry, snag an order of their renowned avocado fries. This is the perfect spot to grab a quick lunch on the go.  
Roberto's Pizzeria
Who says you have to eat seafood just because you're at the beach? Stop into Roberto's Pizzeria for some of the best pies in Miramar Beach. This brightly decorated pizza shop is an ideal family outing. Split a bottle of red paired with a crispy Tuscan pizza and unwind from your day in the sand. Don't forget about dessert! Roberto's has some of the best cannolis around.
Poppy's Crazy Lobster
Poppy's Crazy Lobster is one of the Wharf's most popular restaurants. The Cedar-planked walls are reminiscent of Baytowne Wharf's old fishing village roots. The string-lit patio overlooks the waterfront and supplies live music.
The food at Poppy's is unpretentious in the best way. Order a freshly steamed whole lobster or a pot of peel-and-eat shrimp and forget the utensils. Kids and adults alike will adore Poppy's so be sure to accent your vacation with a trip to this lobster house.
Unwind with Your Friend at the Beach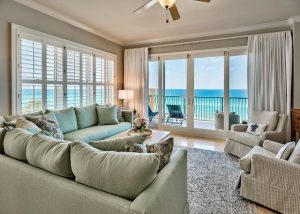 Baytowne Wharf is less than a 20-minute drive from your condo rental at San Remo or Adagio. We recommend planning your stay in the Gulf-front Adagio A401. This spacious corner unit offers four bedrooms and a completely updated interior. Complete your visit with an in-condo massage. Your Friend at the Beach will take care of everything so you don't have to worry about anything. We can't wait to help you make this year's beach vacation the best yet!
What are you waiting for? Book your stay with
Your Friend at the Beach
today!