There's nothing better than a cool scoop of fresh ice cream to end a perfect beach day. If it's hot and your sweet tooth is calling, you're in luck—the Emerald Coast is bursting with flavor. From waffle cones to authentic gelato, there's no end to your confectionary dreams. Check out a few of our favorites of the best ice cream in Destin and 30A!
Still craving more? Discover the best of 30A with our exclusive YFAB Vacation Guide! It has all of the best recommendations for where to eat, what to do, and things to see during your beach getaway. 
9 of the Best Ice Cream Shops in Destin and 30A
Blue Mountain Beach Creamery
Blue Mountain Beach Creamery is a family-owned ice cream shop located in the heart of 30A. The brightly colored seaside cottage boasts delicious waffle cones, creamy milkshakes, and a laidback atmosphere. Better yet, this local staple is within walking distance of your Adagio condo from Your Friend at the Beach. 
Combine candies and creamy ice cream at Pecan Jack's on Santa Rosa Beach. The creamery offers freshly made pralines, artisan ice cream flavors, decadent chocolates, and even "adult" ice cream infused with hints of Bailey's, Amaretto, or Maker's Mark Bourbon. It's a short stroll from our condos at San Remo and fun to do after dinner. Cheers!  
Seaside Sweeteries, located in The Village at Baytowne Wharf, is your one-stop-shop for all things candy-coated. The cozy ice cream shop offers coffee options, gelato, sorbetto, and delicious desserts. Snag a cone and unwind with a beautiful lake view.
Brusters in Destin is sure to have something to please every tastebud. Whether you need a cake for a special occasion or a giant banana split for no reason at all, Brusters off of Gulf Starr Drive does not disappoint.   
Moo La-La Ice Cream and Desserts
Stop in for a banana split and a turn back in time when you visit Moo La-La Ice Cream and Desserts. The nostalgic creamery provides 24 decadent flavors of creamy ice cream alongside tasty pastries and desserts. It's the perfect stop after a sandy beach day!
Frozen Dune Rolled Ice Cream
Frozen Dune Rolled Ice Cream is the first ice cream shop on The Emerald Coast to offer Thai-style rolled ice cream. A stop at Frozen Dune is truly a one-of-a-kind experience as you watch the talented ice cream crafters toss and roll delicious flavors right before your eyes!
30A Cookies and Cream is home to Marble Slab Creamery and Great American Cookies. They are located on Inlet Beach and serve up creamy stone rolled ice cream, tempting filled cookies, and cakes for any occasion!
Delightfully known as "The Sweetest Place on Earth," The Sugar Shak on Rosemary Beach is you stop for candy, ice cream, and everything fun! You're sure to feel like a kid again when you snack on an oversized lollipop or double scoop sugar cone. Make it your new 30A ice cream destination today!
Raise your hand if the thought of rich, creamy gelato makes your mouth water. We're right there with you, two hands in the air. Check out Pino Gelato on Miramar Beach and get your fix in today!    
Enjoy the Sweetest Treat of All—A Stay With Your Friend at the Beach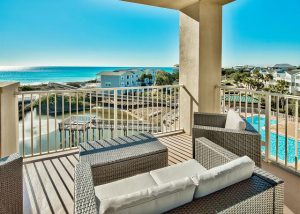 No vacation to 30A is complete without a fabulous vacation rental from Your Friend at the Beach. Stay in the heart of Santa Rosa Beach when you book one of our Gulf-front San Remo condos. The facility features a large pool, hot tub, gym, outdoor grilling area, and so much more! All of our luxurious condos offer well-stocked kitchens, modern furnishings, and stunning views.
We love all of our wonderful guests and hearing what they have to say! Check out our five-star reviews like Emilee's, who said, "YFAB was wonderful to work with and went above-and-beyond with amenities for our trip. The condo fit our entire family perfectly and was very spacious. The grounds, pools, and beach were superb and beautiful. It really felt like we were in paradise!" Let us give you and your family a warm welcome to sunny 30A!