Every vacation on the Emerald Coast should be packed full of exciting new experiences. Whether you're crossing your fingers for a marine life spotting or just wanting to catch some of the most beautiful views around, these 30A and Destin boat tours are just what you need! Here are only a few of our favorites to get you started.   
We're ready to offer many more recommendations to help you craft the perfect itinerary! Request our free YFAB Vacation Guide to discover the best places to eat, drink, and play on your 30A and Destin vacation. 
The Best Destin Boat Tours That Everyone Will Love
Dolphin Cruise
Have you ever wanted to swim with dolphins? It's the ultimate bucket list item! This incredible boat tour is your opportunity! Blue Dolphin Tours offers this once in a lifetime experience that you and your family will never forget. We recommend making reservations a week ahead of time if you're determined to check this activity off your list. In addition to taking a dip with a pod of bottle-nosed dolphins, you're also guaranteed beautiful coastal views and a great time!   
Sunrise Tour
Start your morning on 30A the right way! Reserve your spot on a Destin Sunrise Tour to witness the sun rising over the glistening Atlantic, giving you a front-row seat to the sky's changing colors! There's nothing like the calming nature of the sea early in the morning. This excursion is always worth it!   
Sightseeing Tour
Calling all animal lovers! Venture out with a tour guide on this Sightseeing Tour to explore the fascinating Crab Island, a sandbar off the coast brimming with marine life! The boat even offers a glass-bottom area to present the best possible looks at stingrays, fish, and other cool creatures! You'll likely even spot a few dolphins on the excursion.   
Banana Boat Rides
Every family should experience an infamous Banana Boat ride together, especially the thrill-seekers and adrenaline junkies out there! Hold on tight as a jet ski whips your banana-shapes raft through the waves. This experience is sure to be a highlight of any trip! 
Find Your Perfect Seaside Rental with Your Friend at the Beach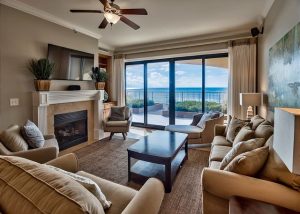 There's so much more fun to experience during your stay, and that starts with the perfect condo! Your Friend at the Beach presents an impressive portfolio of condos that will suit all your needs and make you feel right at home. From the Villa Coyaba rentals to The Villas in Santa Rosa, we'll make your seaside vacation dream come true with hot tubs, swimming pools, ocean views, and more! Browse all our properties and select your favorite. Then, let's get started planning the getaway you've always wanted!